Contact
86 17344894490
service@chalcoaluminum.com
Products
News
Conductive aluminum alloy profiles for subway locomotives
At present, the bus bar of overhead rigid suspension system of domestic urban rail transit is generally made of aluminum alloy profiles. The main functions of the conductive aluminum alloy profiles for subway Locatives are conducting current and clamping contact wire. Therefore, there are certain requirements for the conductivity and mechanical properties of aluminum alloy, which should reach tensile strength ≤ 215mpa and yield strength ≤ 160MPa, When the elongation is less than 8%, the volume resistivity is less than 0.0329 Ω. Mm2gm (equivalent to 52.5% volume conductivity IACS) at 20 ° C. As we all know, the higher the purity of aluminum alloy, the better its conductivity, but the lower its mechanical properties. Therefore, there is a contradiction between improving the electrical conductivity and mechanical properties of materials. The main reason is that the strengthening phase of heat treatment is magnesium silicide and the impurity phase formed by excess silicon and impurity iron. When the amount of silicon is more, not only the plasticity of the material is reduced, but also the conductivity is reduced.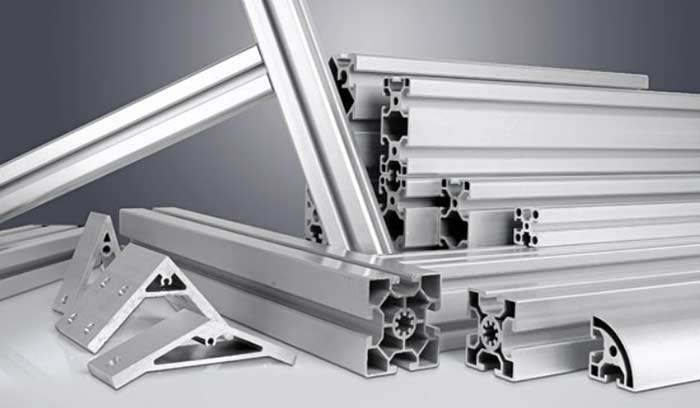 Conductive aluminum alloy profiles for subway locomotives
Conductive aluminum alloy profiles for subway locomotives are prepared by weight percentage of the following elements: 0.45-0.5% Si, 0.5-0.65% Mg, 0.1-0.25% Fe, Mn (0.03%, Cr (0.03%), Cu (0.05%), Zn (0.05%, Ti (0.05%), other single impurity content < 0.03%, other total impurities < 0.1%), the remaining is al, and the total weight percentage of each component is 100% ο
Conductive aluminum alloy profiles for subway locomotives can reach the standard of 20 ° C, constant volume conductivity ≤ 55% IACS, tensile strength ≤ 225MPa, yield strength ≤ 185mpa, elongation > 13%, Brinell hardness > 70. The electromagnetic induction technology is used as the heating technology to avoid uneven heating, Before melting and casting, the furnace is cleaned with industrial pure Al ingot with Al content not less than 99.85wt.%, so as to ensure that the furnace does not pollute the melt in the melting process. The two-stage artificial aging heat treatment is adopted in the heat treatment step, so that the magnesium silicide strengthening phase of Metro locomotive conductive aluminum alloy is dispersed, and the strength and intergranular corrosion resistance are well matched.
Free offer of products, welcome to consult at any time, we will give the first reply.Our Email: