Contact
86 17344894490
service@chalcoaluminum.com
Products
News
Aluminum profile for container assembly
Aluminum profiles are more and more used in the manufacture of refrigerated containers, and also have many advantages such as convenient processing and lightweight in the manufacture of dry containers with complex ventilation slots. At present, aluminum containers are usually aluminum alloy profiles and plates used on various main components.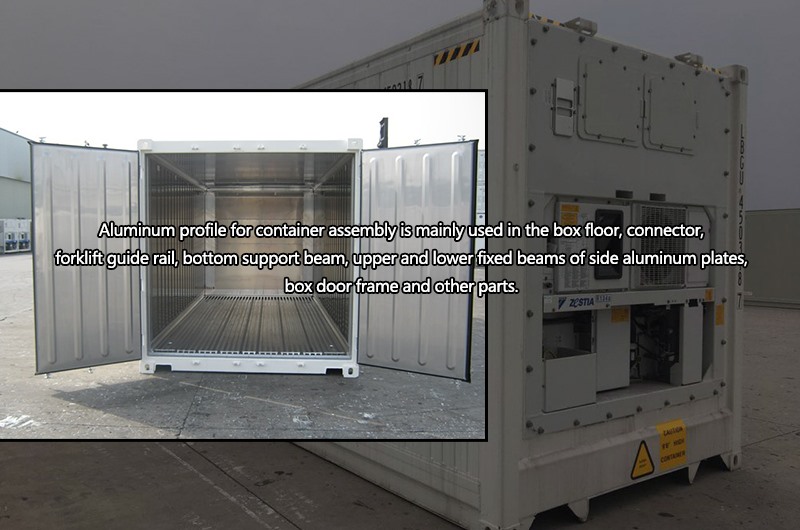 Aluminum profile for container assembly
Aluminum profile for container assembly is mainly used in the box floor, connector, forklift guide rail, bottom support beam, upper and lower fixed beams of side aluminum plates, box door frame and other parts. T6 state profiles of 6061, 6082, 6063 and 6063 aluminum alloys are mainly used, of which the consumption of 6061 and 6082 aluminum alloys exceeds 90%. There are very strict requirements for the alloy composition, dimensional accuracy, internal structure and performance of aluminum profiles to meet the convenient high-quality requirements of welding and assembly. Generally, containers of one specification and model need to be equipped with 15-20 aluminum profile for container assembly with different section specifications. At present, Chalco aluminum has developed hundreds of complex aluminum profile structural parts for containers, which can meet the assembly needs of dozens of container types.
Free offer of products, welcome to consult at any time, we will give the first reply.Our Email: